Here is a rundown of the 2014 finalists in the category of Paranormal Romance for this year's RITA AWARDS: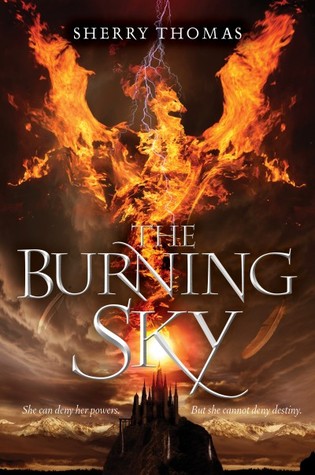 The Burning Sky
by Sherry Thomas
HarperCollins Publishers, Balzer & Bray
Donna Bray, editor
It all began with a ruined elixir and an accidental bolt of lightning…
Iolanthe Seabourne is the greatest elemental mage of her generation—or so she's being told. The one prophesied for years to be the savior of The Realm. It is her duty and destiny to face and defeat the Bane, the greatest mage tyrant the world has ever known. A suicide task for anyone let alone a sixteen-year-old girl with no training, facing a prophecy that foretells a fiery clash to the death.
Prince Titus of Elberon has sworn to protect Iolanthe at all costs but he's also a powerful mage committed to obliterating the Bane to avenge the death of his family—even if he must sacrifice both Iolanthe and himself to achieve his goal.
But Titus makes the terrifying mistake of falling in love with the girl who should have been only a means to an end. Now, with the servants of the Bane closing in, he must choose between his mission and her life.
Caged Warrior
by Lindsey Piper
Pocket Books
Lauren McKenna, editor
The first installment in this fierce and sensual new paranormal romance series features demonic gladiators, ruthless mafia villains, and a proud race on the brink of extinction.
Ten years ago, Audrey MacLaren chose to marry her human lover, making her an exile from the Dragon Kings, an ancient race of demons once worshiped as earthly gods. Audrey and her husband managed to conceive, and their son is the first natural-born Dragon King in a generation—which makes him irresistible to the sadistic scientist whose mafia-funded technology allows demon procreation. In the year since her husband was murdered, Audrey and her little boy have endured hideous experiments.
Shackled with a collar and bound for life, Leto Garnis is a Cage warrior. Only through combat can Dragon Kings earn the privilege of conceiving children. Leto uses his superhuman speed and reflexes to secure the right for his two sisters to start families. After torture reveals Audrey's astonishing pyrokenesis, she is sent to fight in the Cages. If she survives a year, she will be reunited with her son. Leto is charged with her training. Initially, he has no sympathy for her plight. But if natural conception is possible, what has he been fighting for? As enemies, sparring partners, lovers, and eventual allies, Leto and Audrey learn that in a violent underground world, love is the only prize worth winning.
Demon Hunting in a Dive Bar
by Lexi George
Kensington Publishing Corp., Brava
Alicia Condon
Lexi George blends "hilarious one-liners, sexy alpha males, and plenty of mayhem" (Publishers Weekly) in the third of her paranormal series set in a small Alabama town filled with demonoids…and those who hunt them.
Rebekah "Beck" Damian runs a demonoid bar where everyone's welcome—even a reformed flesheater who's strictly vegetarian, a musical ghost who's looking for a piano bar, and a feline harbinger of doom named Wampus Kitty who's scaring the customers. So when a big strapping demon-hunter walks into the bar, Beck knows it's not the end of the world. She'll treat him like any other customer.
If only she could. Conall Dalvahni is the toughest, meanest, sexiest demon-hunter Beck's ever seen—and she's finding it hard to hide her attraction. As far as Conall's concerned, the feeling is mutual. But how can he trust a beautiful half-demon babe like Beck—when her demonic friends have the perfect weapon to destroy every hunter on earth?
The Devil's Heart
by Cathy Maxwell
HarperCollins Publishers, Avon Books
Lucia Macro, editor
New York Times bestselling author Cathy Maxwell returns with her most unfortgettable novel about the Chattan family yet…
They call her the Unattainable. Lady Margaret Chattan spurned every suitor for her hand, vowing never to marry. The only way to break the curse plaguing her family for two centuries is this ultimate sacrifice. But now her brothers' lives are in danger. Determined to save them, she risks her very soul by traveling into the heart of the highlands to battle a force that has transcended time.
Heath Macnachtan is not superstitious. Laird of the most independent, nonconforming, madly infuriating clan ever to grace Scotland, he believes he has his hands full. And then, a woman lauded as one of the most beautiful in England, arrives on his doorstep with wild accusations and a mystical quest . . . one that just might help him discover who murdered his own brother.
But the real danger for Heath and Margaret is not a supernatural foe, but a very real love that could destroy them both.
Diamond Dust
by Vivian Arend
Samhain Publishing
Anne Scott, editor
She can't shift, but she can shake their world.
Caroline Bradley is having one hell of a week. Her wolf lover has sniffed out his mate, making her an instant free agent. Not only that, Takhini territory has been overrun with aggressive bear-shifters electing a clan leader, and the wolf pack is feeling the effects—pushing her diplomatic skills to the limit.
Tyler Harrison is a grizzly on a mission. If he's going to win the majority of the bears' votes, he needs one final thing: a female companion. The only woman in town with influence over wolves, humans, and more bears than he'd like to admit, is Caroline.
Despite the sexual pull between them, though, Tyler's not seeking a permanent relationship. And Caroline isn't looking to be anyone else's political pawn. But she should have remembered that when shifters are involved, changes happen in the blink of an eye.
Warning: Billionaire bear hero plus kick-ass human heroine equals a sexually volatile power struggle. Get ready for what might be the naughtiest game of tag that's ever been played in the great outdoors.
The Firebird
by Susanna Kearsley
Sourcebooks, Landmark
Deb Werksman, editor
Nicola Marter was born with a gift. When she touches an object, she sometimes glimpses those who have owned it before. When a woman arrives with a small wooden carving at the gallery Nicola works at, she can see the object's history and knows that it was named after the Firebird—the mythical creature from an old Russian fable.
Compelled to know more, Nicola follows a young girl named Anna into the past who leads her on a quest through the glittering backdrops of the Jacobites and Russian courts, unearthing a tale of love, courage, and redemption.
Heart of Obsidian
by Nalini Singh
Berkley Publishing Group, Berkley Sensation
Cindy Hwang, editor
Step into New York Times bestseller Nalini Singh's explosive and shockingly passionate Psy-Changeling world…
A dangerous, volatile rebel, hands stained bloodred.
A woman whose very existence has been erased.
A love story so dark, it may shatter the world itself.
A deadly price that must be paid.
The day of reckoning is here.
From "the alpha author of paranormal romance" (Booklist) comes the most highly anticipated novel of her career—one that blurs the line between madness and genius, between subjugation and liberation, between the living and the dead.
His Clockwork Canary
by Beth Ciotta
Signet
Jhanteigh Kupihea, editor
1887
London
Simon Darcy seeks time-travel engine to restore fame and fortunes.
Old flame Wilhemina Goodenough, disguised as tabloid reporter Willie G. "Clockwork Canary" needs his story to keep her job and family safe from villain Lord Bingham, also behind contest.
'Mixed race' 'Freaks' have kaleidoscope eyes, mind powers; Willy sees another's memories.
Immortally Ever After
by Angie Fox
St. Martin's Press
Monique Patterson, editor
In The Heat Of Battle
The hard-won cease-fire between the battling immortals doesn't last long. In the blink of an eye, human surgeon Dr. Petra Robichaud is back on the frontlines, and starring in yet another of the oracle's prophesies. As the only healer who can talk to the dead, Petra doesn't have much choice about her role—even when her breathtaking ex-lover shows up at exactly the wrong time…
Two Hearts Fight To Survive
Petra may have moved on when Commander Galen left her, but she never forgot him—and the passionate moments they shared. Seeing him again is a distraction she really doesn't need with both armies honing new weapons, and wounded all over her M*A*S*H unit. But how can she resist him? It's now or never for the demi-god Galen to become Petra's mate…but with the fate of humanity at stake, will their desire be worth the cost?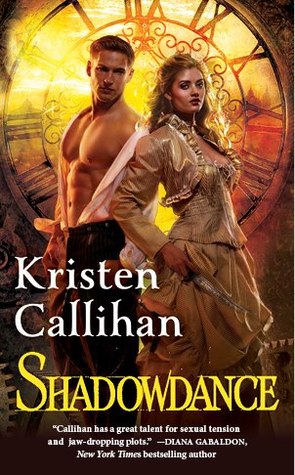 Shadowdance
by Kristen Callihan
Grand Central Publishing, Forever
Alex Logan, editor
Once a heart is lost in shadow…
Life has been anything but kind to Mary Chase. But the Society for the Suppression of Supernaturals has given her purpose. Now she's been tasked with catching a vicious murderer dubbed the Bishop of Charing Cross. But someone is already on the case—and the last thing he relishes is a partner.
Only someone who lives in darkness can find it.
Jack Talent has been alone with his demons for many years. He never expected to have the willful Mary Chase assist him on the Bishop case. Their age-old rivalry reaches new heights—even as their desire for one another reaches a fever pitch. Though he aches to bring her close, Jack's dark secrets are a chasm between them.
With dangerous enemies closing in, Jack must find the strength to face the past…or risk losing Mary forever.
Skies of Gold: The Ether Chronicles
by Zoë Archer
HarperCollins Publishers, Avon Impulse
Amanda Bergeron, editor
Two Lonely Hearts . . .
Kalindi MacNeil survived the devastating enemy airship attack that obliterated Liverpool, but even her engineering skills can't seem to repair her broken heart. Seeking to put her life back together, Kali retreats to a desolate, deserted island–only to discover she's not alone. Captain Fletcher Adams, an elite man/machine hybrid, a Man O' War, crashed his battle-damaged airship into the island after the destruction of Liverpool, never expecting to survive the wreck. But survive he did.
One Desire . . .
Believing he is nothing but a living weapon, Fletcher is wary of his newfound companion–a pretty, damaged, but determined young woman. Together they are stranded on the island, and it is only a matter of time until desire gets the best of them both. Soon Kali and Fletcher each find that they may be just what the other needed. But a danger from beyond the island puts them to the test. Will it rip them apart or bond their hearts forever?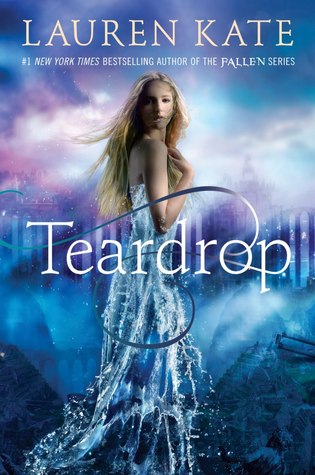 Teardrop
by Lauren Kate
Random House Group, Delacorte
Wendy Loggia, editor
Never, ever cry… Seventeen-year-old Eureka won't let anyone close enough to feel her pain. After her mother was killed in a freak accident, the things she used to love hold no meaning.
She wants to escape, but one thing holds her back: Ander, the boy who is everywhere she goes, whose turquoise eyes are like the ocean.
And then Eureka uncovers an ancient tale of romance and heartbreak, about a girl who cried an entire continent into the sea.
Suddenly her mother's death and Ander's appearance seem connected, and her life takes on dark undercurrents that don't make sense. Can everything you love be washed away?
Witch Bound
by Eleri Stone
Carina Press
Gina Bernal, editor
Book two of Twilight of the Gods
Raquel Lindgren knows what her future holds. An arranged marriage. A new home in Ragnarok, Iowa, with another clan of refugees from Asgard. She should be happy. But there's a mental block preventing her from tapping in to her true abilities as a witch. And she's more attracted to the best man than she is to the groom…
Fen can't believe he's falling for his best friend's future wife. As a hound, a wolf shifter, his duty lies with the pack. He's seen too many hounds destroyed by love, and he's sworn never to take a mate, never to have children of his own. He can't deny his desire for Raquel, but she deserves more than he can offer her.
Raquel's been raised to trust in magic, her clan and her destiny. But when a vengeful demon threatens to break out of Asgard and destroy the clan, Raquel learns she must trust in love if she is to take the future into her own hands.
For more tales of modern-day Vikings, check out Demon Crossings.
Related articles