Inspirational Romance Finalists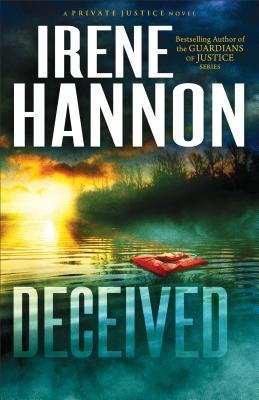 Deceived
by Irene Hannon
Baker Publishing Group, Revell
Jennifer Leep, editor
For three years, Kate Marshall has been grieving the loss of her husband and their four-year-old son in a boating accident. But when she spots a familiar-looking child on an escalator in the mall, she is convinced it is the son she thought was dead. With police skeptical of her story, she turns to private investigator Connor Sullivan. The former Secret Service agent is dubious but agrees to investigate. Digging into the case he discovers that the incident may have been no accident at all. But if Kate's son is alive, someone is intent on keeping him hidden–and may be willing to go to lethal lengths to protect a sinister secret.
As Irene Hannon's many fans have come to expect, "Deceived "is filled with complex characters, unexpected twists, and a riveting plot line that accelerates to an explosive finish.
For Such a Time
by Kate Breslin
Baker Publishing Group, Bethany House
Raela Schoenherr, editor
In 1944, blonde and blue-eyed Jewess Hadassah Benjamin feels abandoned by God when she is saved from a firing squad only to be handed over to a new enemy. Pressed into service by SS-Kommandant Colonel Aric von Schmidt at the transit camp of Theresienstadt in Czechoslovakia, she is able to hide behind the false identity of Stella Muller. However, in order to survive and maintain her cover as Aric's secretary, she is forced to stand by as her own people are sent to Auschwitz. Suspecting her employer is a man of hidden depths and sympathies, Stella cautiously appeals to him on behalf of those in the camp. Aric's compassion gives her hope, and she finds herself battling a growing attraction for this man she knows she should despise as an enemy. Stella pours herself into her efforts to keep even some of the camp's prisoners safe, but she risks the revelation of her true identity with every attempt. When her bravery brings her to the point of the ultimate sacrifice, she has only her faith to lean upon. Perhaps God has placed her there for such a time as this, but how can she save her people when she is unable to save herself?
Hope at Dawn
by Stacy Henrie
Grand Central Publishing, Forever
Lauren Plude, editor
IN A TIME OF WAR, LOVE IS THE INSPIRATION
With her brothers away fighting the Great War overseas, Livy Campbell desperately wants to help her family. Her chance comes when she meets a handsome stranger who lands her a job as a teacher in a place far from her parents' farm. But the war casts a long shadow over the German-American town that Livy now calls home—and the darkness will test everything she thought she knew about family and love . . .
More than anything, Friedrick Wagner wants to be part of his adopted country's struggle for peace. But when the bitter animosity between Germans and Americans soon turns citizens against newcomers, friend against friend, he will do whatever it takes to protect Livy from the hysteria that grips their town. As tragedy—and dark secrets from the past—threaten their future, Friedrick and Livy have one chance to stand up for what's right . . . and one chance to fight for their love.
Huckleberry Summer
by Jennifer Beckstrand
Kensington Publishing
John Scognamiglio, editor
LIBBY EICHER is the most obedient child a parent could ask for. She idolizes her father and wouldn't think of doing anything to disappoint him. Even during her rumspringe, she didn't step one toe outside of the Ordnung, the set of strict rules for Amish living. Why would she want to do anything remotely unconventional and risk getting into trouble? She is perfectly content living in her safe little world in her tranquil Amish community, never needing to muster courage that she doesn't have. The Helmuths hire her to work for them on Huckleberry Hill, but not only is spending time with Aden Helmuth dangerous, it's unsanitary. Their handsome grandson has a dog the size of a bear, determined to share all his dog germs with her. Will Susannah risk everything to realize her heart's desire, or will fear override her chance for love?
ADEN HELMUTH has a hard time following anyone's rules but his own, which makes growing up Amish a bit of a challenge. By the time he reaches his twenties he has gotten in trouble with the law and his community more times than he care to count. After his life is spared by a miraculous event, his parents send him to Huckleberry Hill, hoping he will seek a life of devotion to God. He sees an opportunity to escape a community hostile to his presence and find some purpose to his life. Even though Libby Eicher hates his dog, she's kind of cute in her efforts to be so well behaved. Will his past return to haunt him and destroy any hope he has for happiness, or will Libby Eicher take a chance on an uncommon and exceptional young man?
The Widow's Suitor
by Rose Ross Zediker
Harlequin, Heartsong Presents
Kathy Davis, editor
The young widow is just trying to make a life on the prairie for herself and her newborn son. When handsome newcomer Luke Dow shows up at her cabin door, she soon relies on the man's help with her homestead and dares to dream of the future.
Luke came to the small South Dakota town to build a hotel and make his fortune. But he never expected to care for anyone, let alone the beautiful Cora and her baby boy. When Cora's land claim is challenged by a neighbor, Luke will do all he can to protect her and her home and claim her heart.