My favorite Rita category is Best First Novel. Exciting new writers get wonderful recognition early in their career and readers get introduced to those exciting new writers early on. No matter who wins, the list of finalists is a great place to start to find a new author to follow. Here is a rundown of the 2015 finalists for Best First: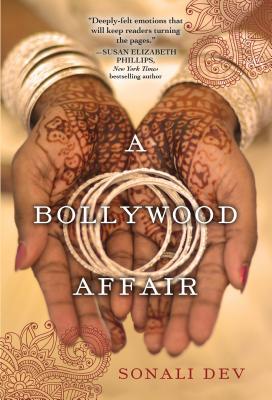 A Bollywood Affair
by Sonali Dev
Kensington Publishing
Martin Biro, editor
Mili Rathod hasn't seen her husband in twenty years—not since she was promised to him at the age of four. Yet marriage has allowed Mili a freedom rarely given to girls in her village. Her grandmother has even allowed her to leave India and study in America for eight months, all to make her the perfect modern wife. Which is exactly what Mili longs to be—if her husband would just come and claim her.
Bollywood's favorite director, Samir Rathod, has come to Michigan to secure a divorce for his older brother. Persuading a naïve village girl to sign the papers should be easy for someone with Samir's tabloid-famous charm. But Mili is neither a fool nor a gold-digger. Open-hearted yet complex, she's trying to reconcile her independence with cherished traditions. And before he can stop himself, Samir is immersed in Mili's life—cooking her dal and rotis, escorting her to her roommate's elaborate Indian wedding, and wondering where his loyalties and happiness lie.
Heartfelt, witty, and thoroughly engaging, Sonali Dev's debut is both a vivid exploration of modern India and a deeply honest story of love, in all its diversity.
The Dress Thief
by Natalie Meg Evans
Quercus Publishing
Kathryn Taussig, editor
Alix Gower has a dream: to join the ranks of Coco Chanel to become a designer in the high-stakes world of Parisian haute couture. But Alix also has a secret: she supports her family by stealing designs to create bootlegs for the foreign market. A hidden sketchbook and two minutes inside Hermès is all she needs to create a perfect replica, to be whisked off to production in New York.
Then Alix is given her big break – a chance to finally realize her dream in one of the most prominent Parisian fashion houses – but at the price of copying the breakthrough Spring Collection.
Knowing this could be her only opportunity, Alix accepts the arrangement. But when a mystery from her past resurfaces and a chance meeting has her falling into the arms of a handsome English war reporter, Alix learns that the slightest misstep – or misplaced trust – could be all it takes for her life to begin falling apart at the seams.
Fake
by Beck Nicholas
Harlequin, TEEN
Annabel Blay, editor
Seventeen-year-old Kath McKenny has a date to the end-of-term party with her since-forever crush. He publicly messaged her to confirm, but there's been a recent status update: he's taking the new girl — giggly, pretty, well-developed Lana Elliot — instead.
After being thoroughly humiliated in front of half the school, best friend Chay talks Kath into revenge: a scheme to create the perfect — and very fake — online guy for Lana. Once she falls for him, they'll show her what it's like to get brutally dumped.
Everything is going to plan until Kath starts spending more-than-just-friends time with the other new kid in town — Lana's dreamy older brother, Sebastian. Kath finds herself getting in deep — in love and drowning in guilt, she tries to put an end to her prank, but it's taken on an unstoppable momentum of its own, with very real consequences.
As her plotting begins to unravel, so do the people Kath thought she knew:
Her mother has a secret online life.
Her father has a whole new family.
Her best friend is barely recognisable.
Her boyfriend has a disturbing hidden past.
And her enemy is more familiar than she knew.
For Such a Time
by Kate Breslin
Baker Publishing, Bethany House
Raela Schoenherr, editor
In 1944, blonde and blue-eyed Jewess Hadassah Benjamin feels abandoned by God when she is saved from a firing squad only to be handed over to a new enemy. Pressed into service by SS-Kommandant Colonel Aric von Schmidt at the transit camp of Theresienstadt in Czechoslovakia, she is able to hide behind the false identity of Stella Muller. However, in order to survive and maintain her cover as Aric's secretary, she is forced to stand by as her own people are sent to Auschwitz. Suspecting her employer is a man of hidden depths and sympathies, Stella cautiously appeals to him on behalf of those in the camp. Aric's compassion gives her hope, and she finds herself battling a growing attraction for this man she knows she should despise as an enemy. Stella pours herself into her efforts to keep even some of the camp's prisoners safe, but she risks the revelation of her true identity with every attempt. When her bravery brings her to the point of the ultimate sacrifice, she has only her faith to lean upon. Perhaps God has placed her there for such a time as this, but how can she save her people when she is unable to save herself?
Mind Sweeper
by AE Jones
Self-published
Faith Freewoman, editor
An angel, a demon and a vampire walk into a bar. Sounds like the beginning of a bad joke, but it's just another day in the life of Kyle McKinley.
Kyle was born with the ability to erase memories, and the inability to keep her opinions to herself. She and her teammates – a vampire who looks like a sexy pirate with fangs, and a Shamat demon with a penchant for Italian pastries – provide supernatural damage control when humans see too much. Today's problem? A sword-wielding angel and a demon had a supernatural smackdown during happy hour in a Cleveland bar, leaving behind a headless vampire and a dozen human witnesses.
This latest supernatural slip-up is attracting all kinds of attention. So much attention that the police step in, and Kyle has to deal with Joe Dalton, a know-it-all human with the sexiest turquoise eyes she has ever seen. Kyle has no room in her life for yet another human who will treat her like a freak. However, Dalton definitely makes her naughty parts sit up and take notice, and it's more than mutual. But before they can act on their attraction, they must join forces to solve a dangerous puzzle. And when they uncover the truth, the apocalyptic ripple effect forces Kyle to make a choice. Learn to trust again, or risk losing everyone she cares about, including Dalton.
Purely Professional
by Elia Winters
Harlequin, Carina Press
Kerri Buckley, editor
Columnist Bridget Hartwell agrees to write about BDSM to impress her new executive editor at Sultry, the "sex-positive magazine for sex-positive women." Unfortunately, it's a topic she knows absolutely nothing about…but if she ever wants that promotion, she'll need to learn the ropes, fast.
English professor Max Harlow is active in the Dom/sub scene, but only for casual play. He's never found his ideal partner: a woman who is his equal, but sexually submissive. When he's asked to explain the lifestyle to his cute but obviously inexperienced neighbor, Max is certain it's best to approach it academically—to keep things purely professional.
Until Bridget's first article is a huge hit, giving her the perfect excuse to delve deeper into the naturally submissive side of her sexuality. As their encounters intensify and each of her boundaries is skillfully pushed, Bridget must decide what this all means…for her identity, her career and, most importantly, her future with Max.
Run to You
by Clara Kensie
Harlequin, TEEN
Natashya Wilson, editor
Part One in the riveting romantic thriller about a family on the run from a deadly past and a first love that will transcend secrets, lies and danger…
Sarah Spencer has a secret: her real name is Tessa Carson, and to stay alive, she can tell no one the truth about her psychically gifted family and the danger they are running from. As the new girl in the latest of countless schools, she also runs from her attraction to Tristan Walker—after all, she can't even tell him her real name. But Tristan won't be put off by a few secrets. Not even dangerous ones that might rip Tessa from his arms before they even kiss…
RUN TO YOU is Tessa and Tristan's saga—two books about psychic gifts, secret lives and dangerous loves. Each book is told in three parts: a total of six shattering reads that will stay with you long after the last page. Book One is First Sight, Second Glance, and Third Charm. Book Two is Fourth Shadow, Fifth Touch, and Sixth Sense.
The Smuggler Wore Silk
by Alyssa Alexander
Penguin Group USA, Berkley
Julie Mianecki, editor
After he is betrayed by one of his own, British spy Julian Travers, Earl of Langford, refuses to retire without a fight, vowing to find the traitor. But when the trail leads to his childhood home, Julian is forced to return to a place he swore he'd never see again, and meet a woman who may be his quarry—in more ways than one.
Though she may appear a poor young woman dependant on charity, Grace Hannah's private life is far more interesting. By night, she finds friendship and freedom as a member of a smuggling ring. But when the handsome Julian arrives, she finds her façade slipping, and she is soon compromised, as well as intrigued.
As she and Julian continue the hunt, Grace finds herself falling in love with the man behind the spy. Yet Julian's past holds a dark secret. And when he must make a choice between love and espionage, that secret may tear them apart.
To Scotland with Love
by Patience Griffin
New American Library, Signet
Tracy Bernstein, editor
Welcome to the charming Scottish seaside town of Gandiegow—where two people have returned home for different reasons, but to find the same thing.…
Caitriona Macleod gave up her career as an investigative reporter for the role of perfect wife. But after her husband is found dead in his mistress's bed, a devastated Cait leaves Chicago for the birthplace she hasn't seen since she was a child. She's hoping to heal and to reconnect with her gran. The last thing she expects to find in Gandiegow is the Sexiest Man Alive! She just may have stumbled on the ticket to reigniting her career—if her heart doesn't get in the way.
Graham Buchanan is a movie star with many secrets. A Gandiegow native, he frequently hides out in his hometown between films. He also has a son he'll do anything to protect. But Cait Macleod is too damn appealing—even if she is a journalist.
Quilting with her gran and the other women of the village brings Cait a peace she hasn't known in years. But if she turns in the story about Graham, Gandiegow will never forgive her for betraying one of its own. Should she suffer the consequences to resurrect her career? Or listen to her battered and bruised heart and give love another chance?