Again, congratulations to the 2015 Golden Hearts Winners Kimberly Buckner, Tracy Poole, Michele Arris, Stephanie Winkelhake, Sara Leyton, and Jeanne Oates Estridge. And congratulations to the Rita Award Winners Caro Carson, Kriten Callihan, Tessa Dare, Meredith Duran, Juliana Stone, Tiffany Reisz, Anna Richland, J.D. Robb, Irene Hannon, Jill Shalvis, Jane Graves and Clara Kensie.
Here is a description of more of the Rita winning novels, this time Contemporary (Long, Mid-Length, and Short) and Suspense. More to follow…
Best Contemporary Romance: Long
Baby, It's You
Jane Graves
With only the wedding dress on her back and her honeymoon luggage in the car, Kari Worthington is running away. Determined to put her controlling father, her rigidly structured life, and the uptight groom she left at the altar in her rearview mirror, she escapes to the Texas Hill country . . . and lands on a tall, dark, and gorgeous winery owner's doorstep. All she needs is a job and a place to live until she can get back on her feet. So why is she fantasizing about losing herself in his powerful arms?
For Marc Cordero, freedom is so close he can taste it. He's devoted his life to managing the family business and being a single dad. Now with his daughter away at college and his brother taking over the winery, Marc is ready to hop on his Harley for parts unknown-until a runaway bride bursts onto the scene. Free-spirited and tantalizingly sexy, Kari excites him like no other woman has before. But when irresistible passion turns into something more, will Marc give up his future to take a chance on love?
Best Contemporary Romance: Mid-Length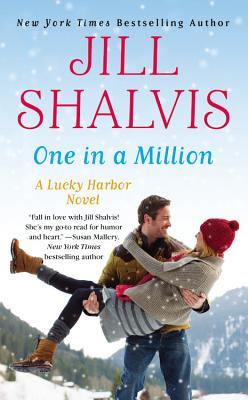 One in a Million
Jill Shalvis
As the brains behind wedding site TyingTheKnot.com, Callie sees it all: from the ring to the dress, the smiles . . . to the tears. It's that last part that keeps her single and not looking. Getting left at the altar will do that to a girl. But when Callie returns to her old hometown, she finds that her sweet high school crush is sexier than ever. And he makes it hard to remember why she's sworn off love . . .
Tanner is a deep-sea diver with a wild, adrenaline-junkie past—and now his teenage son is back in his life. How can Tanner be a role model when he's still paying for his own mistakes? It's hard enough that gorgeous Callie has appeared in town like a beautiful dream, challenging his best-laid plans to keep his heart on lockdown. Though there's something about being around her again that makes him feel like he can be the man she—and his son—deserve. Little Lucky Harbor holds their past; can it hold a beautiful new future?
Best Contemporary Romance: Short
A Texas Rescue Christmas
Caro Carson
Home for Christmas…
Trey Waterston has been on the outside looking in for so long, he nearly forgot where home is. But when he has to go back to the ranch that is his Texas birthright, he expects it to be as difficult to navigate as everything else in his life. He does not expect to find a halfhearted search afoot for a missing heiress. Beautiful and innocent Rebecca Cargill has disappeared, and nightfall–and a snowstorm–is coming. If they don't find her, she could die.
Not on my watch.
Instinctively, and directed only by a photograph, Trey knows he is the only one who can help her. Maybe he can finally claim his legacy. But why is he suddenly so sure Rebecca is a part of it?
Best Romantic Suspense
Concealed in Death
J.D. Robb
In a decrepit, long-empty New York building, Lieutenant Eve Dallas's husband begins the demolition process by swinging a sledgehammer into a wall. When the dust clears, there are two skeletons wrapped in plastic behind it. He summons his wife immediately—and by the time she's done with the crime scene, there are twelve murders to be solved.
The place once housed a makeshift shelter for troubled teenagers, back in the mid-2040s, and Eve tracks down the people who ran it. Between their recollections and the work of the force's new forensic anthropologist, Eve begins to put names and faces to the remains. They are all young girls. A tattooed tough girl who dealt in illegal drugs. The runaway daughter of a pair of well-to-do doctors. They all had their stories. And they all lost their chance for a better life.
Then Eve discovers a connection between the victims and someone she knows. And she grows even more determined to reveal the secrets of the place that was called The Sanctuary—and the evil concealed in one human heart.
The List of RITA Winners:
| | |
| --- | --- |
| Best First Book | Run to You by Clara Kensie |
| Best Contemporary Romance: Long | Baby, It's You by Jane Graves |
| Best Contemporary Romance: Mid-Length | One in a Million by Jill Shalvis |
| Best Contemporary Romance: Short | A Texas Rescue Christmas by Caro Carson |
| Best Erotic Romance | The Saint by Tiffany Reisz |
| Best Historical Romance: Long | Fool Me Twice by Meredith Duran |
| Best Historical Romance: Short | Romancing the Duke by Tessa Dare |
| Best Inspirational Romance | Deceived by Irene Hannon |
| Best Paranormal Romance | Evernight by Kristen Callihan |
| Best Romance Novella | His Road Home by Anna Richland |
| Best Romantic Suspense | Concealed in Death by J.D. Robb |
| Best Young Adult Romance | Boys Like You by Juliana Stone |